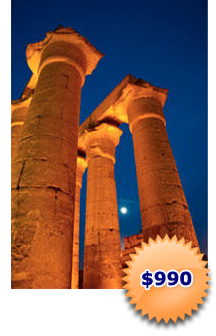 Superior Offer
09 Nights / 10 Days
Discover the Difference

Nile Cruises

(5* Luxury & Deluxe)

M/S Movenpick Radamis II

Mövenpick H.S Radamis II cruise the Nile River between Luxor and Aswan or vice versa, a distance of 220 kilometers offering 3 or 4 or 7 night cruises depending on the schedule. Mövenpick H.S. Radamis II is comprised of 75 deluxe cabins and six spacious suites. All accommodation includes individually controlled air-conditioning; in-house music and video channels, mini bar, hairdryer and shaving sockets panoramic windows offer an unhindered view. On Radamis II, the main restaurant, also the Orangerie serves a varied choice of menus and gourmet cuisine while barbeques are offered on the sun deck. There are three bars, one of which can be used for private functions and a lounge/disco that offers nightly music, drinks and dancing. Mövenpick Radamis II boast a spacious sundeck with a swimming pool, fitness equipment and massage.




M/S Movenpick Royal Lotus

Mövenpick M/S Royal Lotus 5* Luxury Cruise sails between Aswan and luxor and visa versa, a distance of 220 kilometers, with overnight stays at both luxor and Aswan or visa versa. There is a choice of either a 3 night/4 day cruise from Aswan to Luxor or a 4 night/5 day cruise depending on cruise schedule. Royal Lotus is comprised of 62 spacious guests and two magnificent Royal Suites with a lounge and en suite shower room. All accommodation enjoys the latest amenities, individually controlled air-conditioning, panoramic windows, telephone, TV, mini-bar and hairdryer. There is also an Internet Corner and Gift Shop. Mövenpick Nile Cruse boats have Smoke detector System panel, Sprinkler in each cabin, 2life jackets in each Cabin, and Escape map in each cabin.




M/S Adonis

Experience one of the most luxurious cruises on the Nile River. In an atmosphere of supreme luxury and comfort, the M/S Adonis glides along the banks of the Nile between Luxor and Aswan where you will discover the treasures of Egypt's ancient civilization. Be awed at the sight of the Valley of the Kings, Karnak Temple and Aswan's magical feluccas, among many others. You can join the planned sight-seeing tours or simply relax on the sun deck in the Egyptian sun. Enjoy panoramic Nile views, savour world-class cuisine, and be pampered in the comforts of your spacious room to awake refreshed and ready for new days full of magical discoveries. The M/S Adonis offers its guests accommodations befitting a luxurious 5 star hotel. With panoramic window views, quality furnishings, fine upholstry, parqué flooring and detailed touches, each cabin has been richly appointed lending warmth and luxury. All 68 double cabins and one Junior and one Royal suite are fitted with air-conditioning, satellite TV (35 channels), a mini-bar, safe deposit box and a private bathroom with all accessories including a hairdryer. No detail has been overlooked so that each guest is assured a restful and comfortable stay.




M/S ATON

M/S Aton is a 5 Stars deluxe floating hotel, totally renovated in 2004 and launched in October 2004, member of Selection Group.
Accommodation: 54 Air-conditioned cabins, including 37 suites, 15 standard cabins and 2 single cabins, featuring a luxury bathroom, mini bar, individually controlled air-conditioning and colour television with international satellite. Each cabin appeal to dream, thanks to the distinction of fine wood, elegant materials and harmonious décor.
Category: The cruiser is rated as a 5 stars deluxe floating hotel by the Norwegian Global Classification Authority (D.N.V.) Det Norske Veritas.
Navigation Line: M/S Aton's route on it's frequent cruises is the Nile navigation line between Luxor and Aswan.
Leisure: Swimming pool, sun deck, open-air gymnasium and discotheque.
Restaurant and Bars: Guests swill enjoy the finest cuisine accompanied with all attentive and hospitable service in our restaurant and bars. Main restaurant La Boheme located on the first deck. Two bars, La Terrace bar on the upper deck by the swimming pool, and Cheers bar in the second deck.
Facilities: Boutiques, beauty parlour, safety deposit box, laundry, and pressing service.




M/S Crown Emperor

The

Iberotel Crown Emperor

is the second largest ship in command. With its dramatic proportions and huge length of 100 meters, the Crown Emperor is an impressive five-star deluxe river Nile cruise liner and the first one to receive the ISO14001:2004; the internationally recognized Environmental Management Standard Certification.
The splendid

Iberotel Crown Emperor

carries our travelers in supreme comfort, grace and charm creating an atmosphere where their preferences are noted and their wishes are fulfilled. The ship's, professional and most experienced staff in the hospitality sector, promises a personalized service answering all of your needs even before you express them. Split over five-deck levels, this majestic vessel offers a perfect environment in which you can comfortably relax and engage yourself in the surrounding Egyptian atmosphere, leave the busy world behind and take a break. You can enjoy the head to toe relaxation massage or feast with us and enjoy the every-night fun and food festival.
Yes! A cruise fun is not just in the sightseeing. There are loads of other things you can do while floating. The

Iberotel Crown Emperor

has a perfect night life for you to go back home with a vacation to remember. Whether you would like to enjoy the ship's spacious bar and lounge area, or spend some time reading or relaxing in our cozy corners, or may be enjoy our entertaining programs, you would always want the hours to prolong as the ship takes you to your next destination.